Description
Precious Metal
Elevate your typing experience to the next level by building your own custom mechanical keyboard with the ultimate in luxury and durability – solid .925 Sterling Silver artisan keycap.
For Mechanical Keyboards
These keycaps are crafted by skilled artisans with a keen eye for detail, resulting in a truly one-of-a-kind keyboard that not only performs exceptionally, but also exudes a sense of elegance and sophistication.
Cherry Profile
R1 Escape row and function key size
Hand made from solid .925 sterling silver
Heavy 17g to work on MX switches
All in a neat little package
The exquisite .925 sterling silver piece is carefully packaged in a beautifully designed, custom-made Thok jewelry box, ensuring not only its protection, but also providing an elegant display for the special and unique item.
Included
Silver Keycap
Protective Display Box
Polish Cloth
It is important to avoid exposing the keycap to harsh chemicals and cleaning agents as they can cause discolouration or damage to the silver. To clean the keycap, simply use a soft cloth dampened with warm water and mild soap. Avoid using abrasive materials or polishes as they can scratch the surface of the silver. To preserve the shine, you can use a silver polishing cloth or a solution specifically made for silver.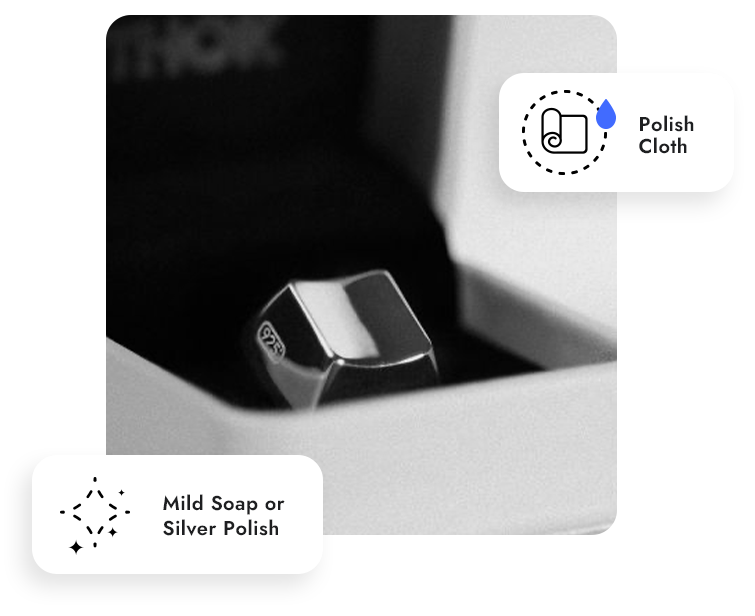 Storage
It is important to store the keycap in a cool, dry place and away from direct sunlight, as exposure to heat and humidity can cause tarnishing.

Protection
By following these simple steps, you can ensure that your sterling silver keycap will continue to be a beautiful and functional part of your keyboard for years to come. The keycap will retain its shine and will not tarnish easily. Additionally, it's important to remember that it's a delicate piece of art and should be treated with care and respect.